Legalboards can be a helpful tool for legal operations management. Applying Kanban to your firm is quicker and easier than you may think. In our recent blog, we covered how legal operations managers can overcome some of their biggest challenges.
Those challenges include a lack of firm visibility and inefficiencies in their workload and communication. In this guide, we'll walk you through an overview of some features that will help you streamline and optimize your workflows. Let's get started with the first challenge- a lack of visibility and understanding around your caseload.
Challenge 1: Understanding Your Firm's Workflows
Often, legal operations or office managers tell us that they're unsure about case progression. They may know the gist of the stages that cases are at, but find their team is more efficient if they know more. Part of that solution is often documenting their workflow for clear understanding throughout the team.
Solution: Customize Your Boards
In Legalboards, you can create customized Kanban boards that help you understand what's going on at a glance. Now, if you're already a Legalboards user, you may have already organized your boards or used one of our templates to get set up. You can take your boards to the next level by customizing them more.
This can done in one of two ways; organizing your workflows into boards in a way that works for your firm, and applying visual markers to your workflow. 
Customizing your board organization can be as simple or as complex as your firm needs. Boards can be organized by practice area, responsible attorney, or operational complexity and can be any size. Sometimes it can also be helpful to have a main board for legal office managers so they can see an overview of all open cases. This is completely up to you and your team's preferences, and you can check out some examples below.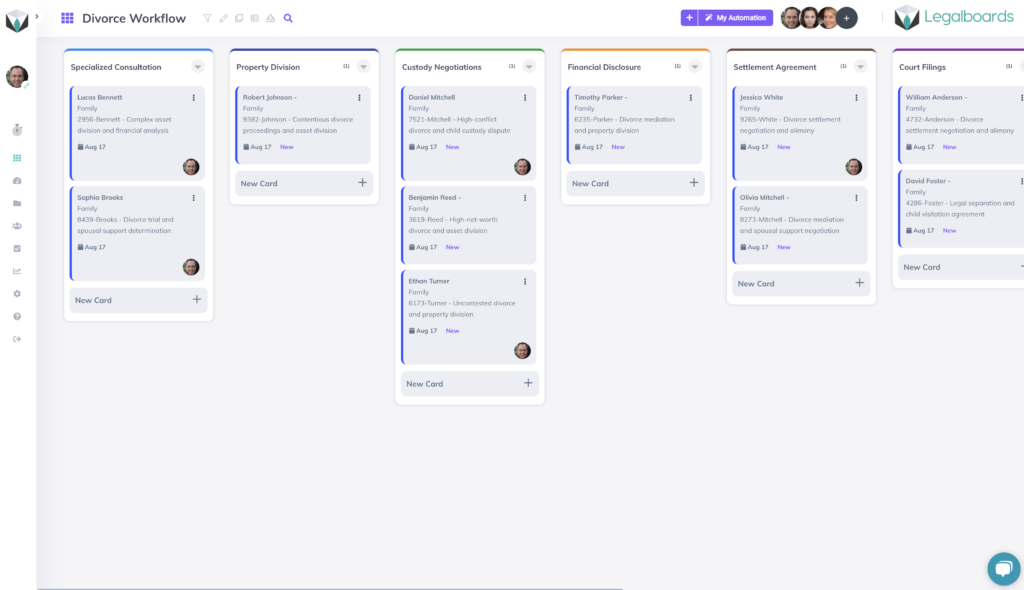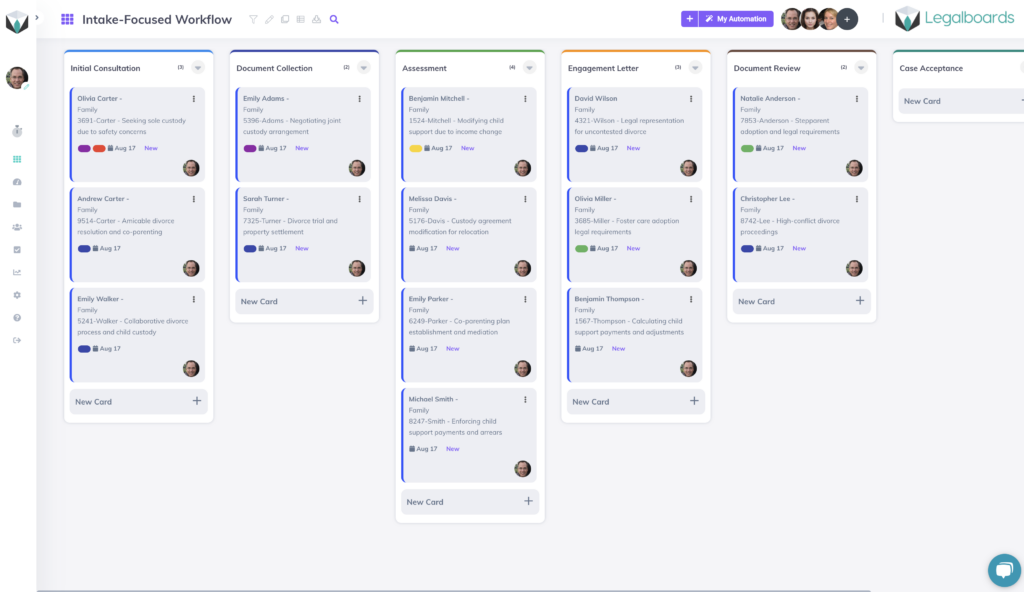 As you can see from the example boards above, Legalboards has different visual markers that you can customize to suit your workflow. Some possible uses are creating labels for specific practice areas, team members, or more. 
You can take this a step further by setting up time-based automations to apply labels that reflect the urgency of a matter.

Challenge 2: Dealing with Manual Workloads
Another challenge that we hear about often from users is manual workloads. A great first step to solving this problem is to document your process so you then create automations that eliminate the need for manual intervention. 
Automations are a great way to keep cases progressing and ensure nothing falls through the cracks.
Solution: Task-based Automation
If you haven't already read our guide on task-chain automation, you can do so here. To give you a quick overview, task-chain automation allows you to create dependent tasks that reflect the natural progression of a matter. We can take this a step further with the task-chain automation.
If you're unfamiliar with task-chain automation in Legalboards, it's as easy as creating an automated task once other tasks are completed. This allows you to have an automated workflow that reflects what your organic process would be anyway. Check out the video below to see how this can be created.
Challenge 3: Inefficient Communication
Clients place value in their legal representation's communication. Part of delivering superior client-led service is to make sure they understand what's happening with their case but also feel satisfied with the amount of communication.
An easy way to do this in Legalboards is to create automated messages to be sent to your client based on their case's progression. For example, this email could be sent out based on the movement of a card between columns (or stages). The resulting email could include the next steps that outline if they need to provide any further documentation and/or the next meeting.
Another way to do this in Legalboards is to create a timeline of a card so if there are any questions from a client, your team is confident they can provide an answer in a timely manner.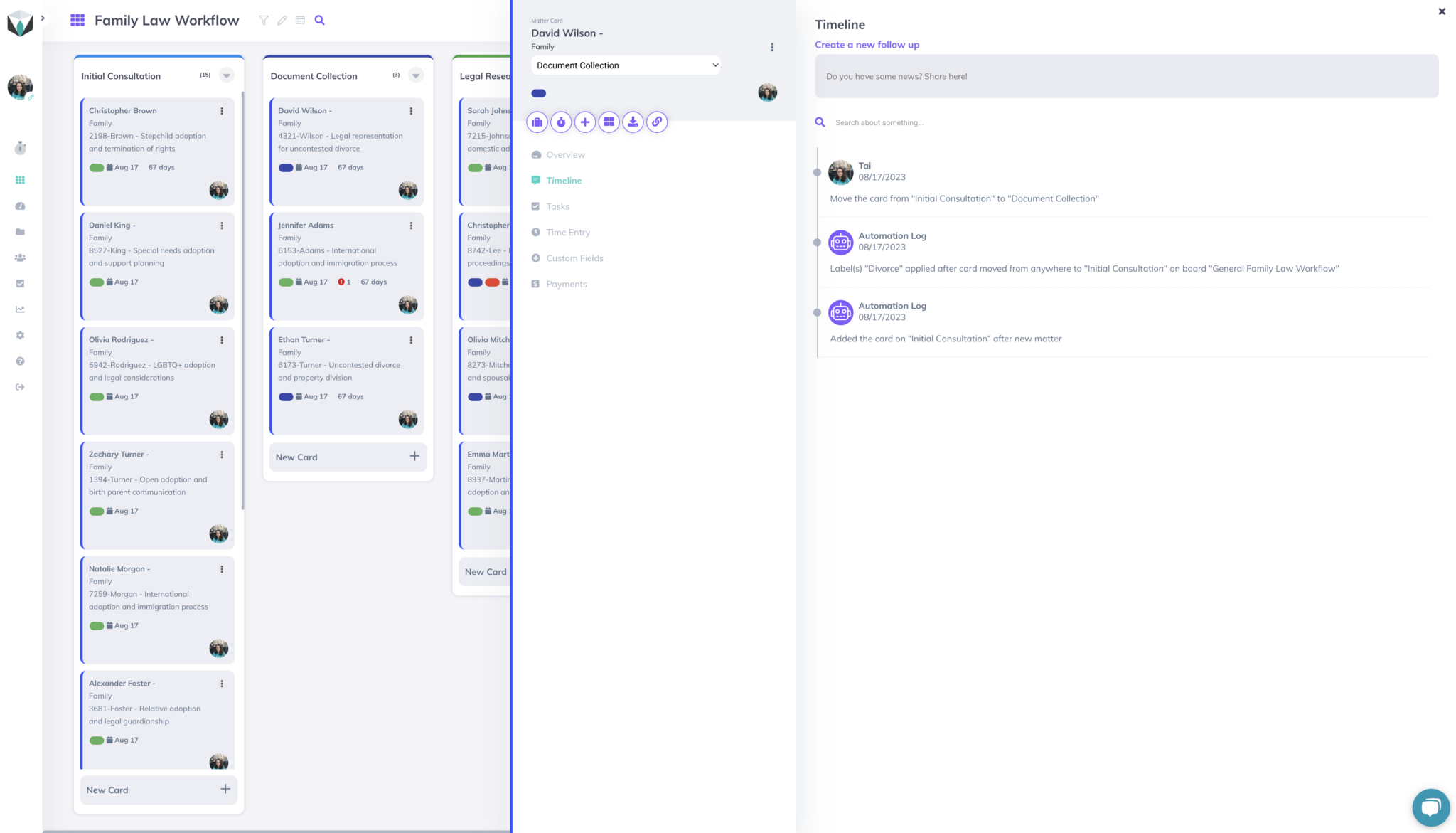 Need Some Specific Help?
If you have any questions, please reach out to us by email (support@legalboards.com), opening a ticket, or directly through our chatbot. We're happy to help you customize your boards and set up automations that enhance what you already do.
You can also check out our other guides, our YouTube channel, or our support portal for FAQs.