Every year, Clio releases the Legal Trends Report that helps lawyers take a look at the state of the industry based on the extensive research that the Clio team collects, deciphers, and provides insights on. As we're all short on time, we've gone through the 2022 report and will provide you with some key insights from the report.
1: Increased Demand for Services Driving The Need For Productivity
With increased demand for legal services over the past year, there has also been an increase in the amount of work that lawyers are required to complete. As seen below (2022 Legal Trends Report 13), lawyers are billing more hours than ever during 2022.
However, Clio also reports that only 33% of a typical 8 hour work day is actually spent on billable work, which translates to under 3 hours.
So, the question is, is the high caseload sustainable? How does this affect the mental health of those within the legal industry?
2. Optimizing Workdays
Unsurprisingly, Clio found that many in the legal profession are looking for flexibility in their work- whether that be by the hours they work or where they do said work. It's important to note that office use has declined, virtual meetings are actually preferred by clients, and legal professionals are looking to have some combination of hybrid work.
49% of lawyers say they prefer working from home and 45% prefer meeting with clients virtually (2022 Legal Trends Report). With these strong indications of variable locations being shown, it increases the risk of professionals to blur the line between work and their personal lives. Lawyers may prefer to work outside of the typical work-day hours (either 8/9 to 5/6), and prefer to communicate with clients and colleagues outside of work (2022 Legal Trends Report). And, how is this achievable? By introducing technology.
All of these factors need to be balanced with the well-being of those within the industry. Operating at a high-level 24/7 is not sustainable. Combined with the need for agility in response to an uncertain economy, optimizing current processes is essential.
3. Becoming "Antifragile" (or, Agile)
Having the ability to quickly adapt to challenges is extremely important for all businesses to succeed. As we've all seen over the span of the pandemic, pivoting is sometimes a crucial part of business longevity. While Clio describes this as antifragile, we prefer to use the term agile.
Clio argues that the use of cloud-based legal practice management (LPM) technology helps firms become more agile, and we'd agree. This technology helps professionals to stay connected to team members and clients, provide better service, and help with mental health (2022 Legal Trends Report 41)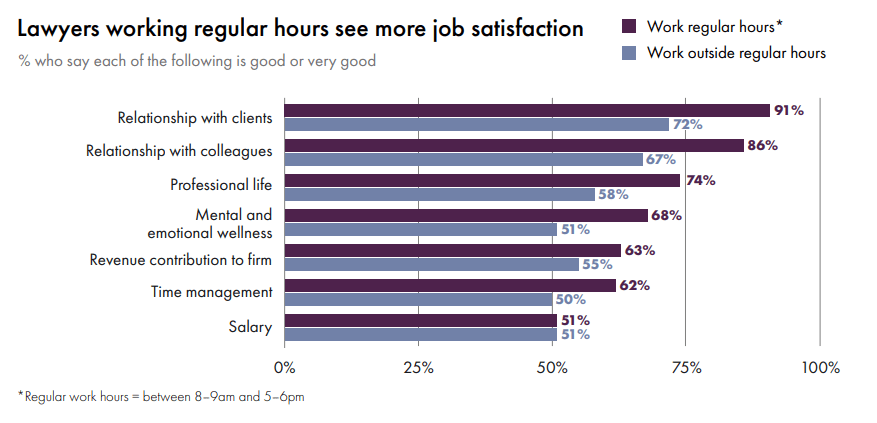 Looking to The Future
As the report shows, 2021 was a rebound year for the legal industry. Demand for legal services increased while the industry recovered from the disruptions from the early days of the pandemic. However, the lines between work and life have become increasingly blurred with the increased flexibility of work and variable locations.
Firms and legal practitioners are now looking for ways to remain competitive and respond to upcoming challenges. Technology (and automation) are one of the strategies used to mitigate risks. As shown in the Legal Trends Report, technology can help provide excellent service to clients, and with automation, can improve client perception of the services they are receiving. In addition to this, technology and automation helps lawyers manage their heavy caseloads and be more productive.
To learn more about automation and how it can help your firm, check out our other resources.